Varsity Cardigan Black
TAYLOR FOOTBALL TEE SIZE CHART (in)
| | | | | | |
| --- | --- | --- | --- | --- | --- |
|   | S | M | L | XL | XXL |
| CHEST | 22.5 | 23.5 | 24.5 | 25.5 | 26.5 |
| FRONT LENGTH | 25 | 25.5 | 26 | 26.5 | 27 |
| SLEEVE LENGTH | 14 | 14.5 | 14.5 | 14.75 | 155 |
KAI RUGBY SWEATER SIZE CHART (in)
| | | | | | | |
| --- | --- | --- | --- | --- | --- | --- |
| | XS | S | M | L | XL |  XXL |
| CLOTHING SIZE (USA WOMENS) | 0-2 | 2-4 | 6-8 | 8-10 | 10-12 | 14-16 |
| CHEST | 19 | 20 | 21 | 22 | 23.5 | 24.5 |
| FRONT LENGTH | 22.5 | 23 | 23.5 | 24 | 25 | 26 |
| SLEEVE LENGTH | 23.5 | 23.5 | 23.5 | 23.5 | 23.5 | 23.5 |
VARSITY JACKET SIZE CHART (in)
| | | | | |
| --- | --- | --- | --- | --- |
| | S | M | L | XL |
| CHEST | 43 | 45 | 48 | 51 |
| SHOULDER | 17.625 | 18.125 | 18.875 | 19.635 |
| WAIST | 33.5 | 35.5 | 38.5 | 41.5 |
| SLV LENGTH | 31.125 | 31.625 | 32.25 | 32.875 |
| CUFF WIDTH | 2.5 | 2.5 | 2.5 | 2.5 |
VARSITY CARDIGAN SIZE CHART (in)
S/M
 L/XL

CLOTHING USA SIZE

US WOMENS

2 - 6
8 - 12
SHOULDER WIDTH
23
26
CHEST WIDTH
24
27
SLEEVE LENGTH (from shoulder seam)
19
19.5
BYRD CLASSIC KNIT CARDIGAN (in)
| | | | | | | |
| --- | --- | --- | --- | --- | --- | --- |
|   | XS | S | M | L | XL | XXL |
| CLOTHING SIZE US WOMENS  | 0-2 | 2-4 | 6-8 | 8-10 | 10-12 | 14-16 |
| ACROSS SHOULDER | 16.5 | 17.5 | 18.5 | 20 | 21.5 | 23 |
| CHEST | 17.75 | 18.75 | 19.75 | 21.25 | 22.75 | 24.25 |
| FRONT LENGTH | 21.25 | 21.75 | 22.25 | 22.75 | 23.25 | 23.75 |
| SLEEVE LENGTH | 21.75 | 21.75 | 21.75 | 21.75 | 21.75 | 21.75 |
BYRD CLASSIC KNIT PANT (in)
| | | | | | | |
| --- | --- | --- | --- | --- | --- | --- |
| | XS |  S | M | L | XL | XXL |
| CLOTHING SIZE US WOMENS | 0-2 | 2-4 | 6-8 | 8-10 | 10-12 | 14-16 |
| WAIST | 23-24 | 25-26 | 27-28 | 29-30 | 31-32 | 32-33 |
| KNEE | 9.625 | 10 | 10.375 | 10.75 | 10.125 | 11.5 |
| LEG OPENING (HALF) | 10.375 | 10.625 | 10.875 | 11.125 | 11.375 | 11.625 |
| FRONT RISE TOP | 12.125 | 12.5 | 12.875 | 13.25 | 13.625 | 14 |
| POCKET OPENING | 6 | 6 | 6 | 6.25 | 6.25 | 6.25 |
| INSEAM | 32 | 32 | 32 | 32 | 32 | 32 |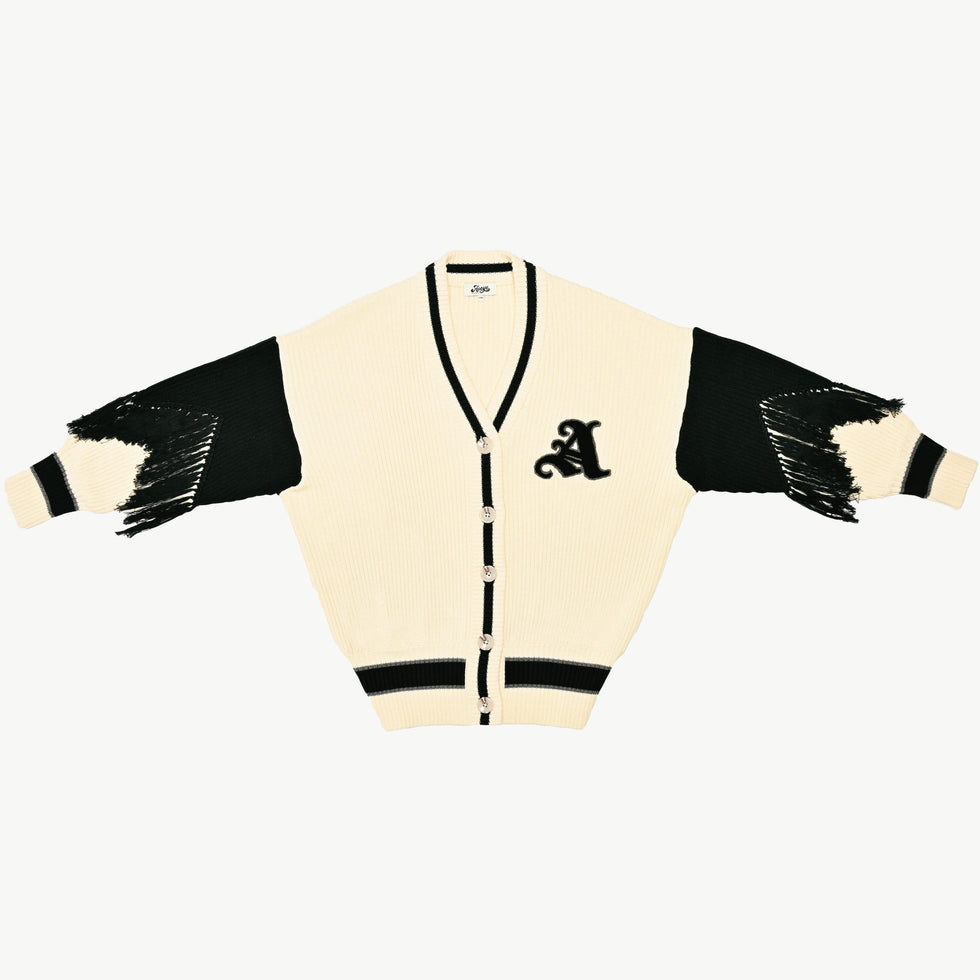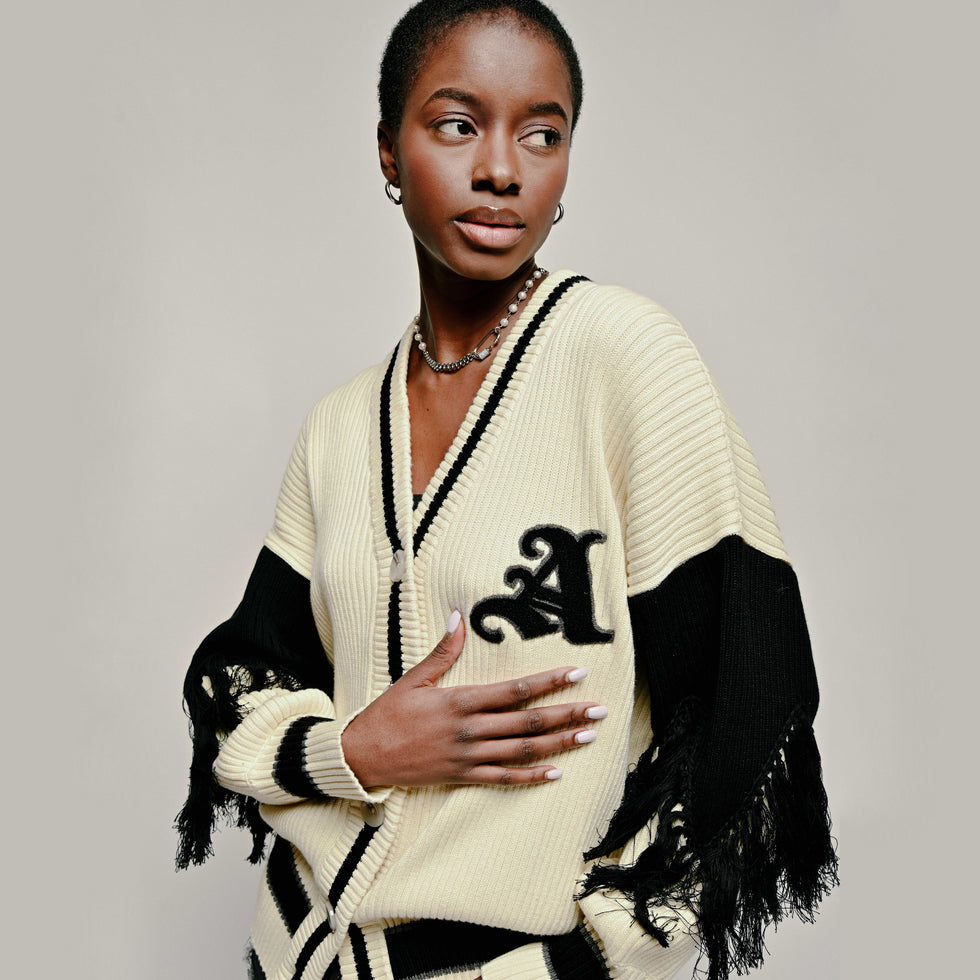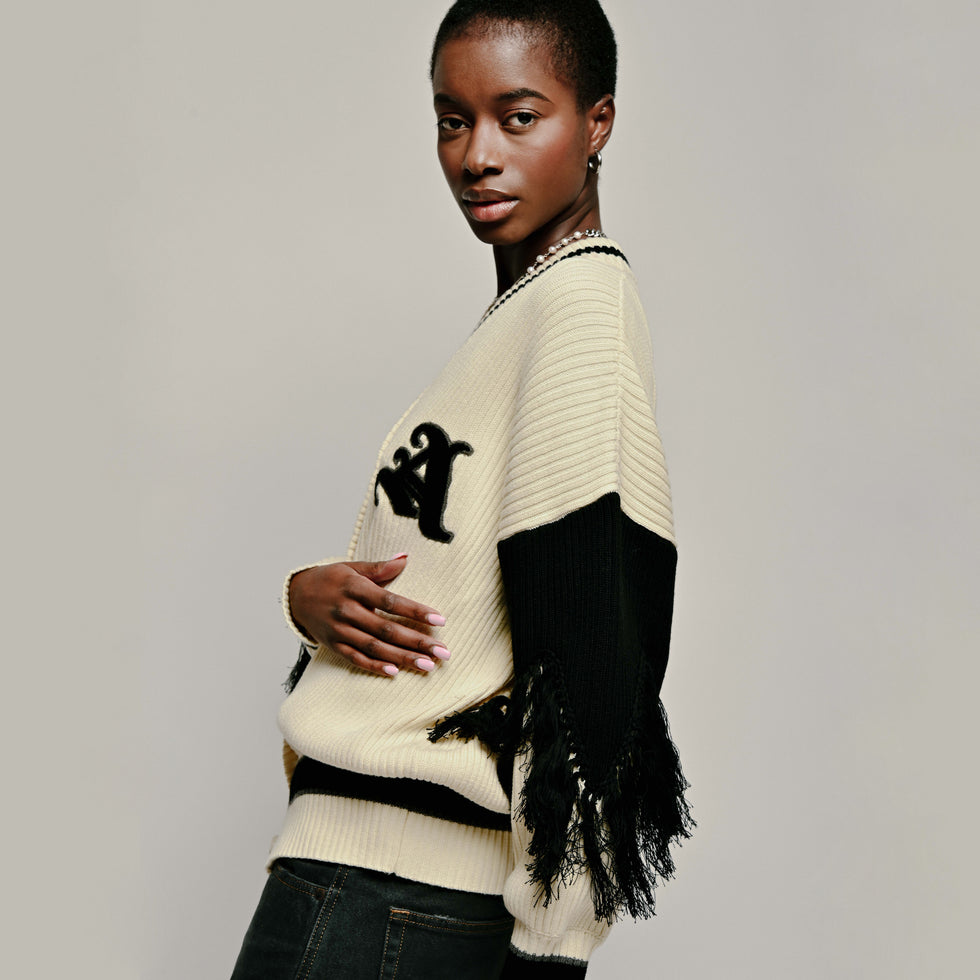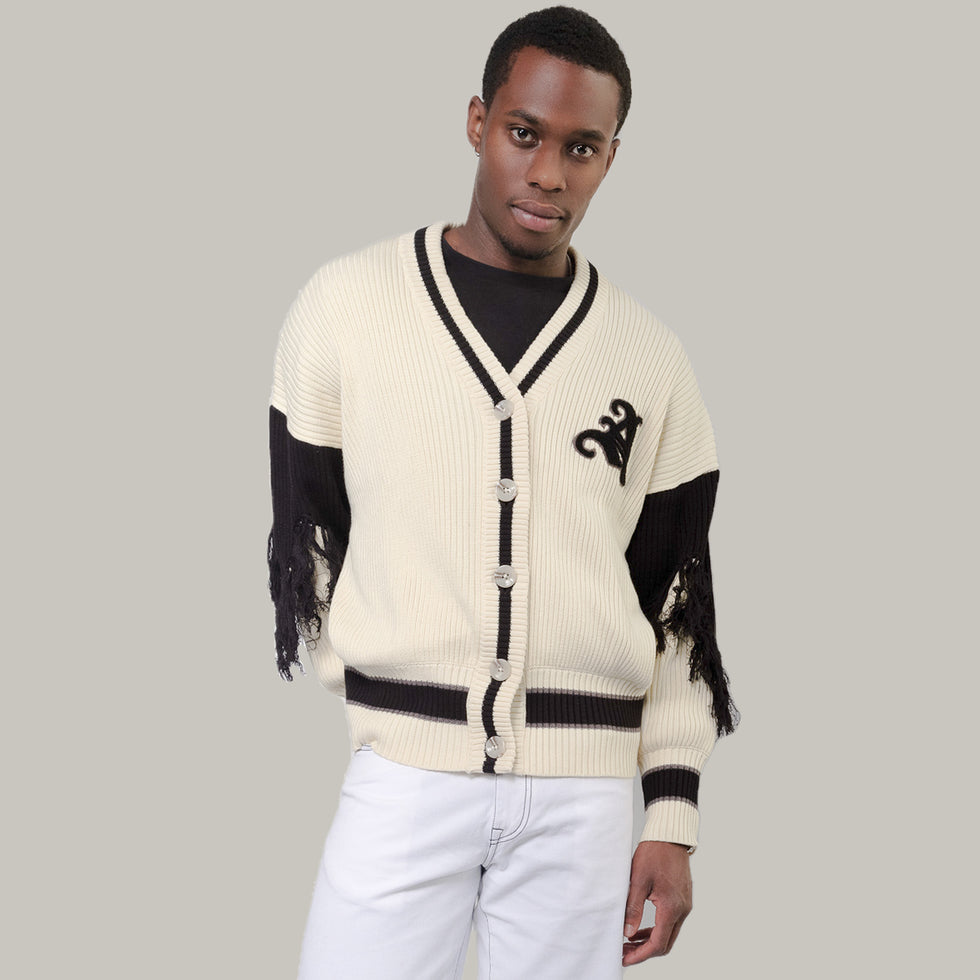 The Varsity Cardigan is crafted with a high-quality cream rib knit and features sleek, black sleeve detailing and subtle fringes. A classic black and gray logo chenille patch adds an iconic touch, and is designed with a slightly oversized fit for a timeless look. The cardigan features a Y-neck collar, front button closure, and black and grey stripes on the cuff and hem. Its unique take on the the classic ribbed cardigan make it an elevated essential piece for any wardrobe.

Color: Cream/Black

55% Acrylic, 45% Cotton
Made in China.
Designed with love.

Style No. ASEYE-163162

PRODUCT CARE
Dry Clean Only

SIZING
Female Model is 5 ft 7" and wears a size S/M.
Male Model is 6ft 5" and wears a L/XL.